Servicing Representative International Chemical Workers Union Council of the UFCW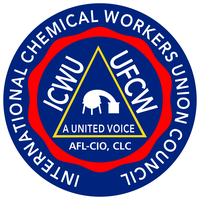 International Chemical Workers Union Council of the UFCW
Servicing Representative
Maine, New Hampshire, Eastern New York, Massachusetts, & Connecticut
The International Chemical Workers Union Council is an intermediate chartered body of the United Food & Commercial Workers International Union that fights for fairness in the workplace for our current and future members.
Bargaining Unit: Federation of Agents and International Reps Union (FAIR)
Salary: Salary is competitive and commensurate with experience. Generous benefits.
Position Summary:
Servicing Representatives work throughout the country to organize new members, provide representational service to local affiliates, build public support for the union and issues important to its members, and provide training and guidance to affiliate leaders and members.
Position Responsibilities:
Servicing Representative responsibilities vary depending on position level but generally are comprised of some or all aspects of the following duties:
Contract negotiations – prepare for and assist local negotiating committees
Grievance Processing and Contract Administration – provide advice and guidance on the collective bargaining process
Arbitrations – represents locals during arbitration hearings
Strike preparation and guidance as assigned
Organizational campaigns as assigned
Public outreach designed to build public support for the union and its constituencies
Leadership development
Additional duties as assigned
Knowledge, Skills and Abilities:
Demonstrated interest as a union advocate and support for the labor movement.
Demonstrated knowledge of unions and labor relations.
Experience in all representation matters including, but not limited to, contract negotiations, grievances, organizing membership participation, and relationship-building.
Ability to quickly assess an assignment situation and to develop, implement and modify a plan of action in concert with affiliate political leadership
Competency in financial record-keeping to assist locals in its legal responsibilities to properly maintain a local union treasury.
Ability to work under pressure while maintaining a professional and collegial demeanor
Excellent communication skills – both written and verbal
Understanding of labor and industry-specific issues relevant to ICWUC members
Effective public speaking skills
Computer literacy is a plus
Willingness to train on required software
Experience with the UFCW or its affiliates is desirable
Work Environment:
This position requires weekly travel to assignments and sometimes requires working over weekends and outside normal business hours. When not traveling, the position is remote.
Posting duration:
Posting closes when position is filled.
To Apply:
Applicants should submit a cover letter and résumé for consideration to ICWUC Council President Lance E. Heasley at the following email: applications@icwuc.org
UFCW is an equal opportunity employer that values diversity and invites persons of all backgrounds to apply. Reasonable accommodations will be provided pursuant to the state and federal laws