Spring Into Action on Safety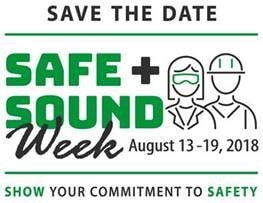 Start fresh this spring by making a clean sweep of hazards that could cause injuries and illnesses. The following resources can help you spring into action:
Attend a free webinar, Three Core Elements of Effective Safety and Health Programs, Wednesday, April 25th at 2:00 p.m. EDT, to get ideas about showing management leadership, encouraging worker participation, and finding and fixing hazards in your workplace.
Conduct a walk-around in your workplace using the tips in Walk-Arounds for Safety Officers, a new product from OSHA, to guide your efforts to find and fix hazards.
Improve your hazard identification skills by downloading OSHA's Hazard Identification Training Tool, consulting the National Safety Council's 7 Common Workplace Safety Hazards, or attending Course #7205, Health Hazard Awareness, at an OSHA Training Institute Education Center.
This message brought to you by the Occupational Safety and Health Administration and the ICWUC Health and Safety Department