Charles "Chuck" Denny, Sr. "A Man of Service" Retires January 1, 2023

Written By Linda D. Wattley
Labor Day…"When the Unions Inspiration through the Workers Blood Shall Run. There can be no power greater beneath the sun. Yet what force on earth is weaker than the feeble strength of one. For the Union Makes Us Strong."
Solidarity Forever –by Ralph Chaplin
These are words brother Chuck Denny shared as he announced his January 1, 2023, day of retirement from the International Chemical Workers Union Council of the UFCW.
Anybody who knows Chuck Denny knows he is a man of great service to humanity. Before building an astonishing legacy with the Chemical Workers, in 1959 he joined the United States Marine Corp and served for six years. In his last year of service, he while stationed in Memphis, Tennessee where he met his wonderful wife, Jean.
1966, Chuck got a job at the Quaker Oats (Chemical Division), Local 397 in Memphis, Tennessee as a Lead Chemical Operator. In that same year, he decided to run for the office of local union president and won.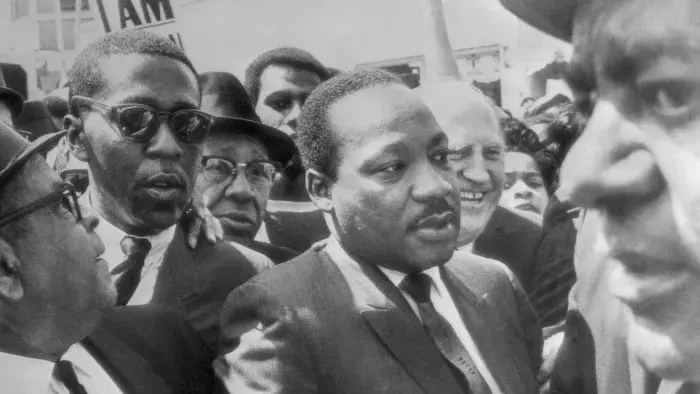 On April 4, 1968, the historical Dr. Martin Luther King, Jr. was assassinated. What many people did not know is that the day before the assassination, Chuck Denny & members of Local 397, along with a host of other unions and their members, met with Dr. King to organize a picket line to support the black sanitation workers of Memphis Tennessee's strike against unjust working conditions. Those conditions led to two garbage workers deaths by being crushed by a truck that malfunctioned. The strike ended on April 16, 1968, with the Union obtaining union recognition by the City of Memphis.
Brother Denny went on to receive awards for all his efforts to support the union. In 1975, he received the Certificate for Diligent Effort in the Labor Movement by A. Phillip Institute. Also in 1976, he served on the Congressional Staff of Congressman, Harold E. Ford, a Member of House Representative 8th Congressional District, State of Tennessee and was Awarded Certificate for "Outstanding though Diligence & Dedication of Purpose" In 1978, he received a Letter of Recognition for "Outstanding Work Performance by the FMCS- Federal Mediation and Conciliation Service.
If you would call brother Denny, you would hear: "Chuck Denny saving the union!" It is certain that his contributions and services deserve merit. President Frank Martino hired him to work with the International Chemical Workers Union, AFLCIO in 1976 in the position of International Representative. He served local unions throughout the United States regarding Collective Bargaining and Arbitration. During the years of 1978 – 1985, he served as Vice President and a member of the Executive Board of the Alabama State AFL-CIO. On July 1, 1985, he was appointed to the Alabama "Toxic Substances Advisory Council" by the Governor of Alabama for a four (4) year term.
In 1979, he organized the largest organizing victory of the International Chemical Union Workers Union – Huntsville Manufacturing Company, Huntsville, Alabama consisting of more than 1800 hourly workers. Chuck was arrested by the Huntsville, Alabama City Police Department during this successful organizing win.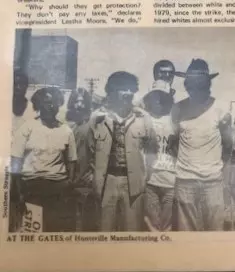 In 1989 Chuck Denny became a personal assistant to the late Reverend James Orange, a former top aide to Dr. Martin Luther King, Jr., where he assisted in organizing workers to join unions in Atlanta, Georgia. While working in Atlanta he received a Letter of Recognition from Dr. Martin Luther King's wife, Coretta Scot King, for his dedication to the working class.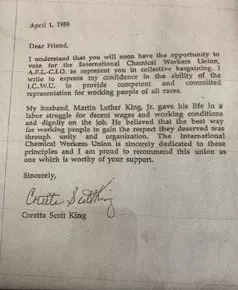 From 2007 through October 28, 2021, Chuck served on the International Chemical Workers Union Council of the UFCW Executive Board. In 2012, Brother Denny accepted assignment to UFCW Local 2013 in Brooklyn, New York where he received a plaque by Local 2013 Local Union President Louis Mark Carotenuto for his "Service and Leadership" to members of Local 2013.
Chuck Denny is always remembered by the Martin Luther King, Jr. family. He was selected to be their keynote speaker during the "Dr. Martin Luther King, Jr. 11th Annual Unity Celebration", January 21, 2019.
President Frank D. Martino and Brother Charles F. Denny are our history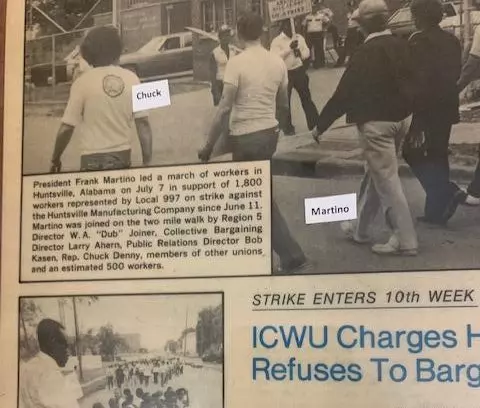 These Brothers Were in the Trenches
It is especially important to Chuck Denny that our Locals and Union members continue creating history. International Chemical Workers Union Council has always existed to have integrity, service, and purpose to uphold the value of servicing our union workers in an unstoppable and professional manner. Both President Martino and Brother Denny created history by giving endless service that we may uphold and continue to have a heart for union workers. As of today, Brother Denny has served under six (6) presidents making him the longest active member and employee of the ICWUC. Before him, it was President Frank Martino.

Presentation of the final recognition of service, the Ring of Honor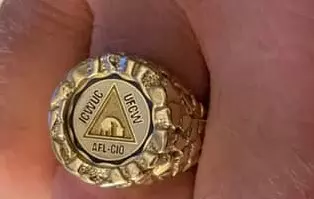 After thirty (30) years of dedicated service to our union, Brother Denny was presented the Chemical Workers' Ring of Honor. This ring represents our members and the union workers in our country. During the ICWUC 2021 Convention, Brother Deny knew this would be his last convention, standing at the podium beside President Lance E. Heasley, Brother Denny removed the ring from his finger and informed the delegates that he is passing down the ring he had worn for so many years with so much pride and to his brother, President Lance E. Heasley. He asked the President to wear this ring as a symbol of honor and integrity for all our Union Brothers and Sisters.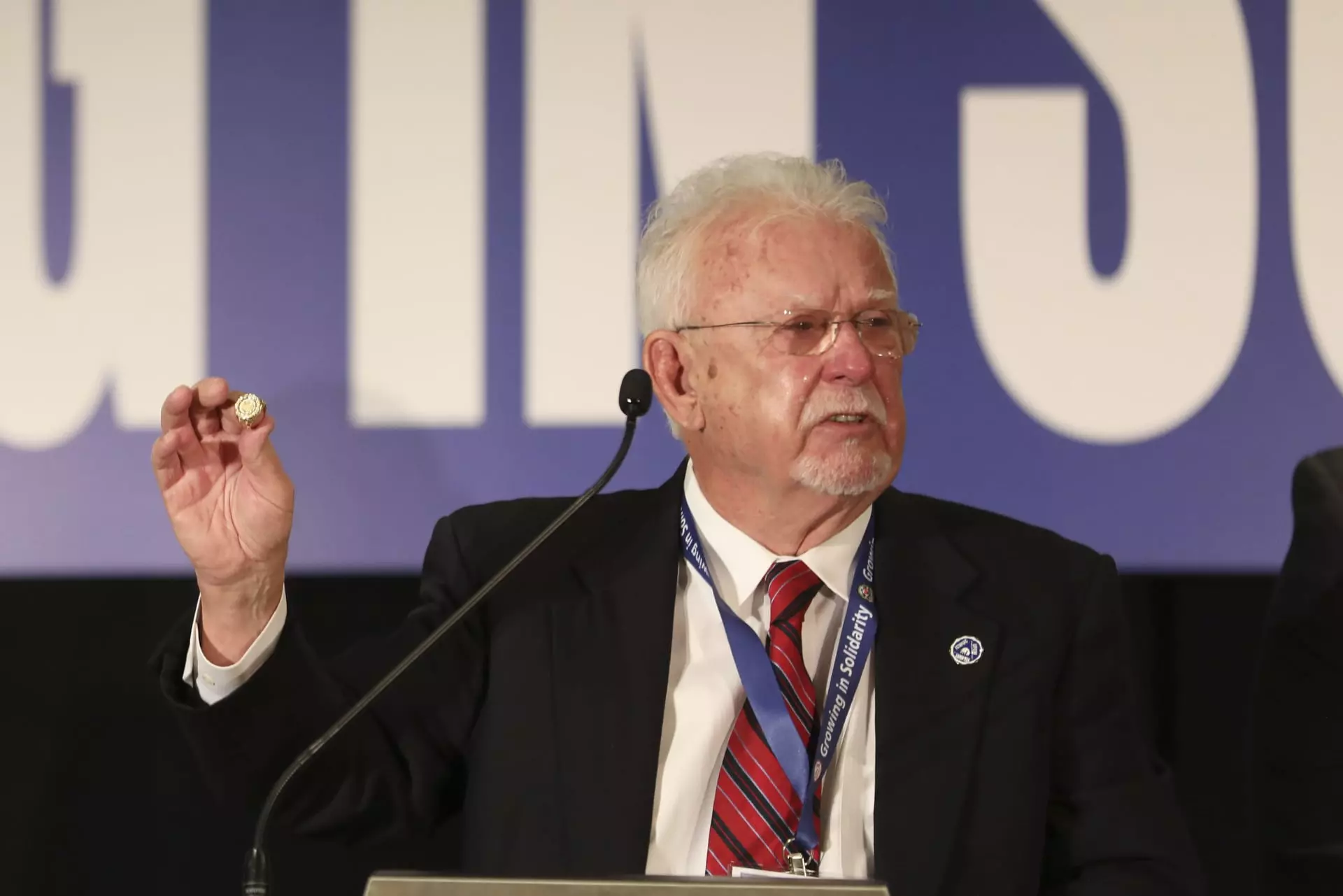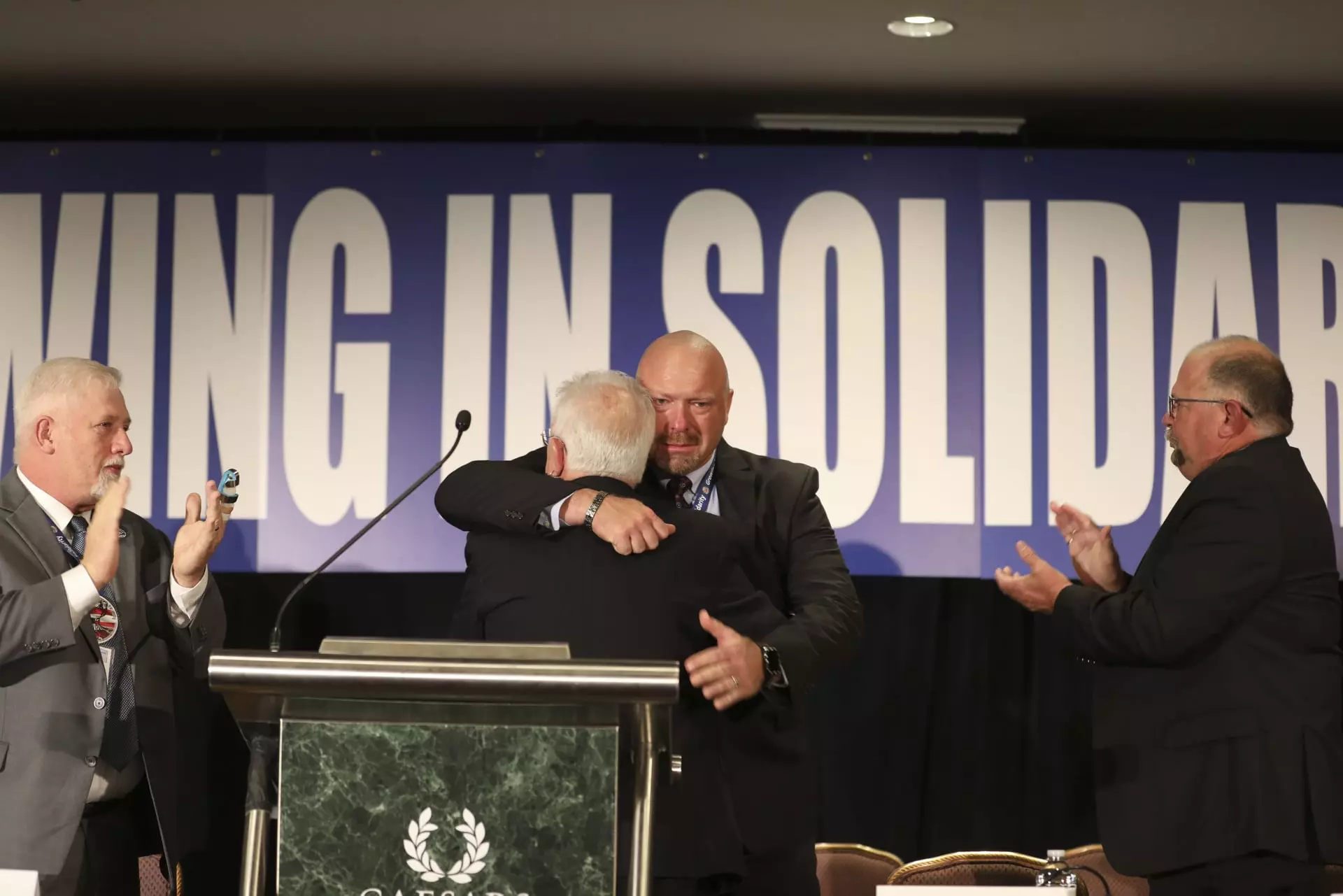 From President Lance E. Heasley
President Heasley had the following to say, "I would like to thank Brother Denny for his years of dedication to not only the Chemical Workers Union but, for his years of fighting for civil rights so that all American's are treated with fairness in not only their workplace but in their communities as well. Brother Denny's love of our Union is evident by his 46.6 years of service (no one does something that long without loving what they are doing).
On a personal note, I am humbled by Brother Denny's gracious gift during the 2021 Convention. That ring means the world to me, and I wear it proudly every day. It is a constant reminder of the dedication Brother Denny has for the ICWUC and his faith in me to lead it.
Last but not least, I also want to thank Brother Denny's wife Jean and his family for sharing him with the Chemical Workers Union for so many years."
A Final Note from Brother Denny
1After many weeks of thinking about it I have decided to retire from the International Chemical Workers Union Council effective January 1, 2023. This was not an easy decision, but my wife and I feel that now is the right time for me to move onto the next stage of my life and take the time to enjoy my family. I will never, ever deviate from my union values or union principles, I have based my whole life on these.
I would like to share a few of these feelings: " Find out who you are and be that person, find the truth and live that truth and everything else will come." There is no end game in helping others, not one person is better than another. Life is all about choices and I chose to try and help people by helping them get into unions to have a more productive work environment. I will never regret this decision. I am leaving with mixed emotions, sad to say goodbye to so many who have and are in my life but also happy to be able to stay in one spot with my family.
To all my brothers and sisters, I may not be the most important person in your life . . . but I am union. Just remember me simply . . . as your union brother.
If I can ever help in any way, please keep me in your contact list . . . I AIN'T dead yet.
Solidarity forever, Chuck Denny