ICWUC Center for Worker Health and Safety Education honors recent retirees.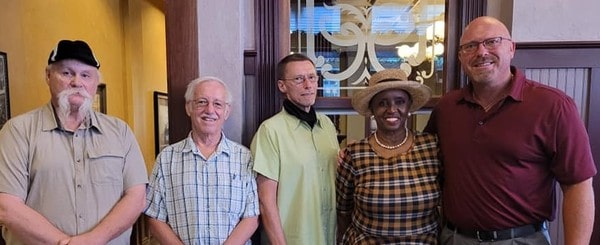 The ICWUC Center for Worker Health and Safety Education has had 5 employees retire over the last year. Due to the pandemic, these retirees were never given a proper goodbye. Center Director Shari Glines-Allen thought that since President Heasley was going to be in Cincinnati August 17 & 18 to work on the budget, it would be a great opportunity to honor those retirees and thank them for their service. The following are the retirees and retirement dates:
OSHA & DOT Coordinator Don Dudley – April 30, 2020
Worker Trainer Development Coordinator Lula Odom – November 1, 2020
The Director of the ICWUC Cincinnati Center for Worker Health and Safety, John Morawetz – January 30, 2021.
Director of the ICWUC Health and Safety Department Darrell Hornback – June 30, 2021
DOE Nuclear Training Coordinator Tom Frazee – August 1, 2021.
The ICWUC would like to thank all the retirees for their service and dedication to keeping workers all over the country safe. Our members are safer because of you!