Support Heaven Hill Distillery workers.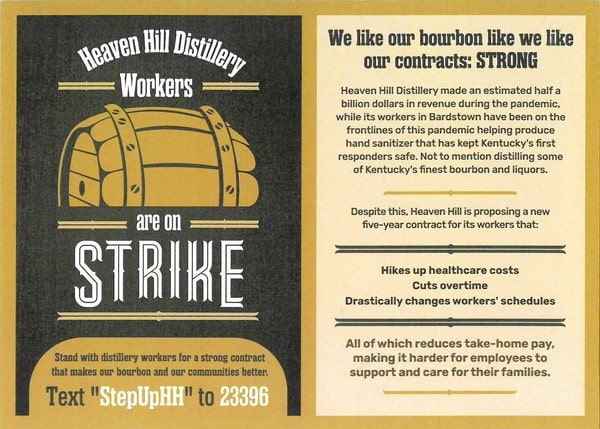 Heaven Hill Distillery jobs have been great for Kentucky – great for the communities that enjoy their quality products and the tourism dollars they bring in, and great for families with generations of Kentucky distillery workers building better lives through good pay and benefits. They have also been great for the company with Heaven Hill making $500 million in estimated revenue last year.
But instead of giving workers a contract that honors their hard work, Heaven Hill proposed a contract that makes cuts to overtime – cuts that could drastically reduce take-home pay – and threatens to divide its workers with unclear and potentially unfair scheduling.
What Heaven Hill is doing threatens not only its workers and their livelihoods but can lead to turnover and loss of generational skills that local communities and economies rely on.
That's why workers are standing up –to keep Heaven Hill, and all distillery jobs, GOOD jobs.

Support Heaven Hill Workers Today

SPREAD THE WORD: Share the Heaven Hill campaign on Facebook & Twitter using the hashtag #StepUpHH and urge your followers to do the same.
MAKE THE PLEDGE: Tweet Heaven Hill that you won't buy their products until a FAIR contract is signed.
Print out the information below and distribute to your community.